Key Segments and Products
As the only fully integrated US-based producer of both molybdenum and tungsten flat and round mill products, Elmet is committed to delivering the highest quality refractory metals. Our fabricated, mill and specialty Mo and W based products are available in a variety of sizes and form factors, and we have extensive machining capabilities that allow us to meet even the most challenging needs of our customers. We are committed to meeting our customers' needs, and our long history in the industry has given us the experience and knowledge to do so successfully.
Elmet ensures the quality and performance of our molybdenum, tungsten, TZM, MoLa, and WHA products by starting with only the highest quality powders. Elmet is fully integrated, so we can tailor the manufacturing process to meet specific refractory metal and application requirements.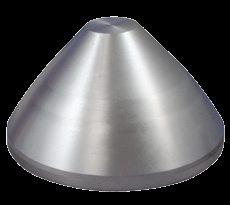 Elmet is a member of the US NAC (National Armaments Consortium). As a United States-owned and operated, ITAR/ISO registered fully integrated manufacturer of high-performance molybdenum and tungsten materials and products, Elmet provides a unique level of process control for its defense industry customers.
Swaged tungsten rod for kinetic energy penetrators
Near net shape preforms
Fragmentation sleeves
Molybdenum and tungsten metal powders
High-performance diode studs
X-ray shielding
Wire, sheet, and components for microwave tubes
High ductility molybdenum plate
Fragmentation balls/shapes
Elmet is a global leader in production of Gen 1 to Gen 8.5 sputtering targets for the flat panel display industry. Our advanced tungsten and molybdenum solutions also support Semiconductor, Solar, LED and other Display coating applications. Whether in sputtering targets, evaporative deposition or in MOCVD / epitaxy, the efficiency of the coating process and the performance of the film is highly dependent on the quality and purity of the source material. Elmet Technologies ensures superior coating results by providing the most advanced materials solutions. We work closely with our customers to understand the requirements of their coating needs and tailor our products to optimize the performance on their coating.
Elmet Technologies' high-quality tungsten, molybdenum, and alloy based sputtering targets and consumables aid the FPD industry in increasing throughput, improving uniformity and enhancing product performance.
Tungsten and molybdenum planar and rotary sputtering materials and targets
Broad capability of sizes covering Gen 1 to Gen 8.5
Strip, Square and Monolithic
Over $30 million in recent capital investments to support our target production capabilities
Pure molybdenum (Mo), molybdenum-tantalum alloy (MoTa), tungsten (W), and molybdenum titanium (MoTi)
Global bonding capabilities and a track record of delivering to leading display companies in US, EU, Taiwan, Japan etc.
We also offer electron beam and resistive evaporative deposition crucibles and boats
Elmet Technologies is a global leader in tungsten and molybdenum machining.
As technologies advance, component and assembly specifications become more stringent. Consequently, machining and fabrication techniques must support demanding precision requirements and increasingly complex geometries.
At Elmet, we pride ourselves in offering our customers sophisticated tungsten and molybdenum machining and fabrication capabilities. We've honed our process over decades of experience working with molybdenum and tungsten, two of the most challenging materials to machine. Elmet operates more than 70 machines at our US plants that are dedicated to supporting your precision machining and fabrication requirements. See below for a brief list of some of our current capabilities.
Molybdenum (Mo) Machining
TZM Machining
Mo-La Machining
Mo-Ti Machining
Tungsten (W) Machining
Tungsten Heavy Alloy Machining
Tantalum Alloy Machining
Lanthanum Alloy Machining

Elmet is also a leading global supplier of molybdenum and tungsten products to the high-temperature furnace industry. The hot zone designs at the heart of these furnaces can range from basic to complex and involve any number of parts from mesh elements to shielding to precision machined components. We support our customers' hot zone needs with off-the-shelf stock, custom machined components, and by fabricating complete assemblies to customer specifications. In addition, we leverage our expertise to partner with our customers to advise improvements to their hot zone designs.
Sintering Furnace
Vacuum Furnace
Walking Beam Furnace
Continuous Furnace
Hot Isostatic Pressing (HIP)
Crystal Growth

Elmet is the leading global provider of pure molybdenum studs for power semi devices, high power diodes, and thyristors.
Elmet offers numerous sizes and options of molybdenum studs, disks and heat sink components. Please contact us to discuss your application.