TUNGSTEN ROD
Elmet is a global leader and the only North American owned and operated, fully integrated manufacturer of pure tungsten rod products. Elmet manufactures and stocks the common sizes of tungsten rod for semiconductor, lighting, furnace, high-reliability diodes, and other applications. Elmet's 99.95% Pure Tungsten Rod is made in the USA at our fully integrated Lewiston, Maine production facility. As with all of our products, we manufacture tungsten rod in a full range of sizes (.02″ to 1″) with top of the industry lead times.
Product Details:
All Rod Products are made from 99.95% pure tungsten pressed, sintered and swaged material
Made in the USA and the only fully integrated US manufacturer of pure tungsten and molybdenum rod
Designed to exceed ASTM F288 specifications
ISO 9001 and AS9100 certified manufacturing process
Various finishes, lengths, and diameters available upon special order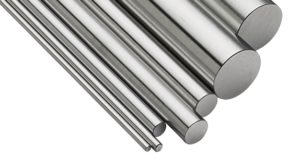 Tungsten has unique properties as a high-performance material, including a melting point of 3410° C, low vapor pressure at elevated temperatures and low coefficient of thermal expansion. As a result, it is valuable for use in a variety of high-temperature products and processes such as glass-to-metal seal parts and support parts for lighting and electronics, silicon rectifier stud mounts and high-temperature furnace components.
Elmet produces pure and potassium doped (WK Type) tungsten rod. The potassium-doped products are targeted for use where high temperature, non-sag properties are required in smaller cross sections by the lighting and electronic industries.
Availability and Surface Finish
Tungsten rod is manufactured in random length pieces and can be cut to customers' desired lengths in diameters ranging from .020 to 1 inch. There are three different surface processes or finishes which are available for tungsten rod. Availability of finishes is dependent on the desired end-use for the rod.
Black – The surface is "as swaged" or "as drawn," retaining a coating of processing lubricants and oxides.
Cleaned – The surface is chemically cleaned to remove all lubricants and oxides.
Ground – The surface is centerless ground to remove all coating and to achieve precise diameter control.
Standard diameter and length tolerances are listed in the accompanying tables. Other, closer tolerances can be quoted on request. Please contact us to discuss your tungsten rod needs.
Tungsten Rod Standard Diameter Tolerances (Inches)
Diameter
Black/Clean
Ground
.020 – .025
± .001
± .001
.025 to .070
± .0015
± .001
.070 to .200
± .003
± .001
.200 to .250
± .007
± .001
.250 to .435
± .007
± .0015
.435 to .690
± .010
± .003
Tungsten Rod Standard Length Tolerances (Inches)
Diameter
Length
Range
.500 to 12
12 to 24
>24
.020 to .100
±.010
±.010
±.0625
.100 to .500
±.015
±.015
±.0625
.500 to .690
±.030
±.0625
Molybdenum and Tungsten Rod Options:
Elmet offers a wide range of rod products with a variety of finishes. As with all of our products, our rod begins as metal powder which enables us to tailor the material to meet specific customer and application requirements.
Pure molybdenum
Molybdenum HCT – potassium doped molybdenum for use where retention of low-temperature ductility after exposure to high temperatures is required.
Molybdenum Lanthana (MoLa) – lanthana-doped molybdenum for use where application temperature limits exceed those of Molybdenum HCT.
TZM – Higher recrystallization temperature and better creep resistance than Mo
Pure Tungsten
Molybdenum and tungsten threaded rod – Our customers rave about our threaded rod. Our non-binding threads make these rods easy to work with, and when combined with our hex nuts, no other product can compare.
Gun Drilled Rod – With newly added capabilities, Elmet offers a complete line of gun drilled rod products featuring partial and through holes, short to long lengths, and a wide range of outer and inner diameters.
Other options upon request