TUNGSTEN Heavy Alloy SHEET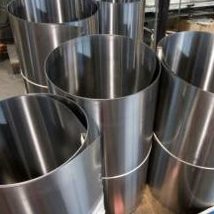 Leveraging our leading pure tungsten metal sheet capabilities, Elmet has recently begun offering a range of tungsten heavy alloy plate and tungsten heavy alloy sheet products in varying thickness and length and per our customer request. As with all of our materials, our sheet begins as metal powder, pressed into ingots, sintered, and then rolled. The process enables us to tailor the product to meet specific customer material and / or performance requirements to ensure optimal performance in your application.
SIZES:
Elmet produces tungsten heavy alloy flat products in thicknesses from .025 to over 1 inch.  Tungsten flat material from .025″ to .09″ inches in thickness is classified as sheet.  Tungsten flat material from .1 and larger is classified as plate.  Tungsten sheet is used in the fabrication of sintering boats, as components in high temperature furnaces and as heat shields.
More Information:
Please contact one of our application specialists at 1.800.343.8008 to find out more about our tungsten heavy alloy capabilities and sizes.