Low Magnetic (Low Mag) vs. Non Magnetic (Non Mag) Tungsten Heavy Alloys (WHAs)
If you're considering utilizing Tungsten Heavy Alloys, (WHA) you may be curious about low magnetic (low mag) vs. non-magnetic (non mag) options. ASTM B777 standards and literature describe two options for magnetic permeability of the material. These are "magnetic" and "non-magnetic" but we like to think of these as low mag and non mag. In this section, we'll discuss the options, applications, and Elmet's capabilities with low mag and non-mag tungsten heavy alloy.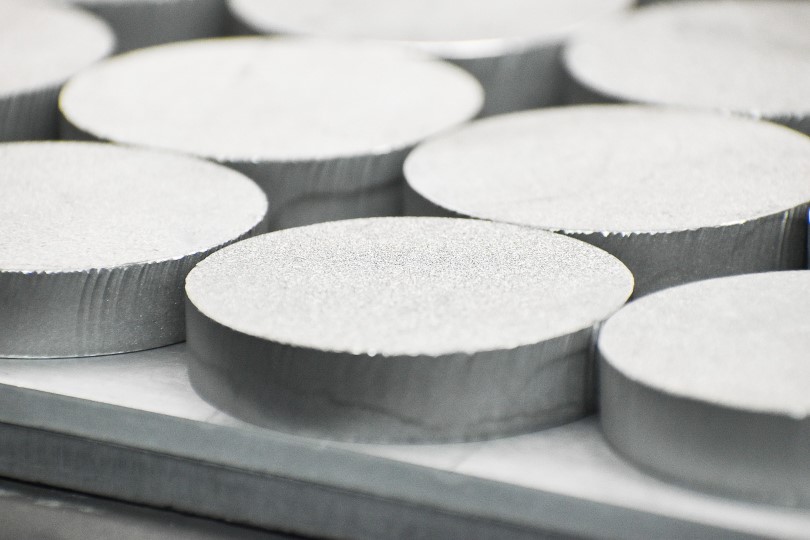 These terms of course infer significant or insignificant magnetization, yet for Tungsten Heavy Alloys, may be slightly misleading because even magnetic WHAs have a weak magnetic response compared to highly ferromagnetic materials. The reason for this terminology is because, on Earth, all substances exhibit some amount of magnetism. However, most materials exhibit a force usually too weak to be felt. Thus, only laboratory instruments can detect or measure such forces.
What is Low Mag WHA?
The term "magnetic" implies a measurable pull to a magnet. But, WHAs do not behave like a permanent magnet. ASTM B777 "Standard Specification for Tungsten Base, High-Density Metal" states, ASTM A342 "Test Methods for Permeability of Weakly Magnetic Materials" is the process by which WHAs shall be magnetically characterized. Section 1.4 of this specification states: "Non-magnetic material is defined as material having a maximum magnetic permeability of 1.05 Mu". A Low Mu Permeability Indicator is typically the instrument that measures the magnetic response of WHAs.
Magnetic WHAs have a magnetic response that is approximately similar to common austenitic stainless steels. For a visual, picture a strong rare earth metal magnet, such as a neodymium magnet. This magnet will weakly attach to both austenitic stainless steels and WHAs vs. the same magnet drawing a paperclip in from a notable distance away.
A designer should be aware that all 4 classes of WHAs in either magnetic or non-magnetic form are electrical conductors. Thus, one can induce eddy currents in a WHA if subjected to an EM field regardless of its magnetic condition.
Low Mag vs. Non Mag WHA: Which type is best for your application?
When determining whether low mag vs. non mag WHA for your application, consider the following examples. If an existing magnetic field is undisturbed in radiation generating equipment, a non-magnetic WHA is likely the ideal choice. Additionally, non-magnetic WHAs are typically used in down hole probes/instruments where shielding around programmed chips & or sensors. The most obvious use case for a non-magnetic WHA is when scanning with a magnetometer is the primary application.
What is Non-Mag WHA?
Non-magnetic legacy WHAs had a tungsten-nickel-copper composition. Present day, the preferred composition for non-magnetic WHAs is tungsten-nickel-iron because they provide enhanced mechanical properties. However, their static mechanical properties are typically lower than the equivalent magnetic versions. Therefore, unless the desired application requires non-magnetic performance, magnetic WHAs are an ideal solution. Typically, magnetic WHA is the default choice.
Industry specification considerations:
ASTM B777 states Class 4 is not available in a non-magnetic form. (Contact Elmet directly for custom solutions)
AMS7725 allows all 4 classes of WHAs to be available in either Type 1 – Non-magnetic, or Type 2 – Magnetic. On a drawing which does not specify Type, we recommend Type 2 as a supplied default.
To learn more about magnetic vs. non-magnetic tungsten heavy alloy, feel free to reach out to our sales team at [email protected]. We work with clients across a broad range of industries and applications. Elmet is your edge in performance metals. We're here to help.