Pure Tungsten Material and Products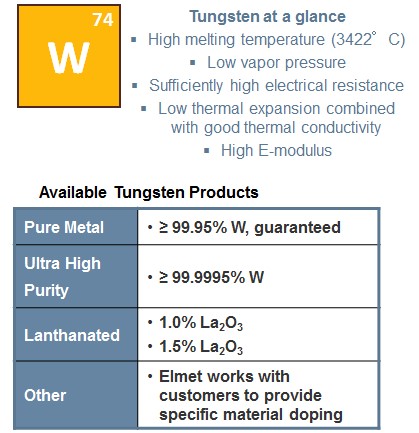 Elmet Technologies is the leading North American manufacturer of pure tungsten metal. Our products are manufactured in the United States at our Lewiston, Maine facilities. Elmet's fully-integrated manufacturing starts with metal powder production through the reduction of tungsten oxide to produce high purity tungsten metal powder. We then utilize powder metallurgy processes to press and sinter ingots, then roll, swage, and draw the metal into fully-dense flat or round mill products. Rod, sheet, plate, foil, and wire mill products are either sold or used to feed our industry-leading fabrication and machining services. Fully integrated manufacturing enables Elmet to control and tailor material properties like ductility, tensile strength, hardness, grain size, and others to meet specific application requirements. Elmet maintains ISO9001 and AS9100 certified quality management systems.
Pure tungsten metal products:
Is your tungsten DFARS compliant? Read this blog post.
Tungsten alloys
In addition to the pure metal, Elmet provides tungsten-based alloys that achieve specific performance characteristics:
Tungsten – Potassium (WK)
Potassium-doped product is targeted for use where high temperature, non-sag wire properties are required in the lighting and electronic industries. Additionally, the rod form of the doped product exhibits superior strength and machinability in other industrial applications.
Tungsten Heavy Alloy (WHA)
WHAs are the preferred form of W for most mass/density related requirements in large components that can be easily fabricated by conventional powder metallurgy process. WHA is found in kinetic energy penetrators, radiation shielding, balance weights, downhole logging, and Inertial damping weights to name a few categories.
Tungsten Lanthana (WLa)
Lanthanated W is targeted for applications requiring high-temperature performance with improved creep resistance, increased strength, and higher recrystallization temperature.
Tungsten Facts:
Symbol: W
Category: Transition Metal, Group VI
Atomic Number: 74
Density: 19.25 g / cm3
Melting Point: 3420 °C, highest metal, 2nd highest of elements
Discovered: 1781
Low vapor pressure
High electrical resistance
Low coefficient of thermal expansion (CTE)
High density
Strong corrosion resistance
High elastic modulus
Available Tungsten Products
Pure Metal

> 99.95 % W, guaranteed
Ultra-High Purity

> 99.9995 % W

Lanthanated

● 1.0 % La2O3

● 1.5 % La2O3

Other

Elmet works with customers to provide specific material doping
Please visit our resources page for more content and material information: Customer Resources