Tungsten Heavy Alloy PRECISION MACHINING
Tungsten Heavy Alloy (WHA) Machining. Leading companies purchase Elmet-made tungsten heavy alloy material for applications such as ballast weights, radiation shields, boring bars, ordnance components and other components requiring high density and good ductility.
With over 80 years of experience and formerly as part of the Royal Philips group, Elmet is a global leader in tungsten, tungsten heavy alloy and molybdenum refractory metal machining and fabrication. As technologies advance, component and assembly specifications become more stringent; machining and fabrication techniques must support demanding precision requirements and increasingly complex geometries.
At Elmet Technologies, we pride ourselves in offering our customers sophisticated WHA (tungsten heavy alloy) machining and fabrication capabilities that have been honed over decades of experience with two of the most challenging materials to machine: molybdenum and tungsten. We operate more than 70 machines dedicated to supporting your precision machining and fabrication requirements. Below is a brief list of some of our current capabilities. Please contact Elmet with your requirements for machining and fabrication.
Refractory Metal Machining
Molybdenum (Mo) Machining
TZM Machining
Mo-La Machining
Tungsten (W) Machining
Tungsten Heavy Alloy Machining
Tantalum Alloy Machining
Lanthanum Alloy Machining
Equipment Capabilities
CNC VMC (3-, 4-, and 5-axis), HMC (4-axis), Twin Spindle Lathe (3-axis), Swiss Screw (9-axis), and Bed Mill Machines
Grinding, Lapping, and Polishing
Threading
EDM, Laser, Water Jet Cutting
Gun drilling
Spinning
CMM, vision inspection, etc.
And much more
Fabrication & Assembly
Welding, soldering, brazing
Riveting
Metal Forming, Folding and bending
Punching and stamping
Complex assembly
Examples of Fabricated Parts
Furnace Components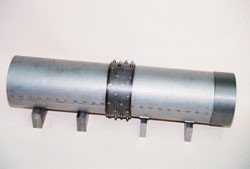 Many high-temperature industrial furnaces use molybdenum (moly) components for elements, element supports, power terminators, and process fixtures. Hot Isostatic Press (HIP) construction requires shells fabricated from molybdenum sheets. These are used to support the heating elements, and may also act as shielding. Likewise, flat heating elements made from moly sheet are used in vacuum and hydrogen furnaces.
Ion Implant Semiconductor Tool Parts
Silicon wafer processing relies on the use of ion implantation systems that inject ions at high energy directly into silicon wafer surfaces. The ion plasma source is energized via tungsten electrodes which operate within fabricated tungsten arc chamber.
Lamp Components
The use of molybdenum as leads and supports and the use of core tungsten components have long been central to the success of the lighting industry. Cut, welded and formed molybdenum and tungsten wire and rod parts are essential for the production of economical glass-to-metal sealed parts in lamp construction. For certain high-intensity discharge lamps, anodes and cathodes are machined from molybdenum and tungsten rod.
Sintering Boats and Carriers
Elmet has industry-leading expertise and experience in the precision machining, forming, and fabrication of molybdenum sintering boats and carriers. Leading companies purchase Elmet-made boats, carriers and other fabrications for a diverse array of applications including nuclear fuel sintering, evaporative deposition, and high-temperature furnace.
CHEMICAL COMPOSITION AND AS-SINTERED MECHANICAL PROPERTIES
STANDARD WHA GRADES for Machining
Grade

ET90
ET90NM
ET92.5
ET92.5NM
ET93
ET95
ET95NM

ET97

ASTM B-777

Class 1
Class 1
Class 2
Class 2
–
Class 3
Class 3
Class 4

AMS 7725E

Class 1

Type 2

Class 1

Type 1

Class 2

Type 2

Class 2

Type 1

–

Class 3

Type 2

Class 3

Type 1

Class 4

Type 2

MIL-T-21014D

Class 1
Class 1
Class 2
Class 2
–
Class 3
Class 3
Class 4
W content, wt.%
90
90
92.5
92.5
93
95
95

97

Ni content, wt.%

7.0
8.9
5.3
6.7
5.6
3.5
4.4
2.1
Fe content, wt.%
3.0
1.1
2.2
0.8
1.4
1.5
0.6

0.9

Density, g/cm3

17.0
17.0
17.5
17.5
17.7
18.0
18.0
18.5
UTS, ksi
≥ 110
≥ 110
≥ 110
≥ 110
≥ 110
≥ 105
≥ 105

≥ 100

UTS, MPa

≥ 758
≥ 758
≥ 758
≥ 758
≥ 758
≥ 724
≥ 724
≥ 689
YS, ksi
≥ 75
≥ 75
≥ 75
≥ 75
≥ 75
≥ 75
≥ 75

≥ 75

YS, MPa

≥ 648
≥ 648
≥ 648
≥ 648
≥ 648
≥ 648
≥ 648
≥ 648
Elongation, %
≥ 5
≥ 5
≥ 5
≥ 5
≥ 5
≥ 3
≥ 3

≥ 2

Hardness, HRC

≤ 32
≤ 32
≤ 33
≤ 33
≤ 33
≤ 34
≤ 34
≤ 35
Mag. perm.
> 1.05
≤ 1.05
> 1.05
≤ 1.05
> 1.05
> 1.05
≤ 1.05

> 1.05
Critical Note:
Other alloy compositions and properties may be available as a special order
All WHA products are compliant with EU RoHS Directive 2002/95/EC, 2011/65/EU and with REACH Regulation (EC) No. 1907/2006
All WHA defense products are compliant with section 871 of the FY2019 National Defense Authorization Act, codified at 10 U.S.C. 2533c, and the January 28, 2019 acquisition directive from the Office of the Under Secretary of Defense. Click here for a link to the NDAA guidance.
All raw materials for Elmet's WHA rod products are obtained from certified conflict-free sources
STANDARD PRODUCT SIZES
Blocks, sintered

6.0" x 4.8" x 2.3"

4.6" x 3.4" x 2.1"

7.0" x 2.3" x 2.0"

6.0" x 1.5" x 1.5"

150 mm x 120 mm x 57 mm

120 mm x 86 mm x 54 mm

180 mm x 58 mm x 51 mm

150 mm x 39 mm x 38 mm

Rods, sintered

0.5 to 1.0" in diameter

Lengths up to 24"

12.7 to 25.4 mm in diameter

Lengths up to 610 mm

Rods, swaged

0.25 to 1.0" in diameter

Lengths up to 48"

6.35 to 25.4 mm in diameter

Lengths up to 1219.2 mm

Plate, hot rolled

0.25 to 1.0" in thickness

Widths and lengths up to 24"

6.35 to 25.4 mm in thickness

Widths and lengths up to 610 mm
Note: other sizes and properties available as special order