MOLYBDENUM ROD

Elmet is a leading global provider of high-quality molybdenum rod products and the only US producer of pure, swaged tungsten and molybdenum rod.
We offer a large range of standard rod diameters ranging from .030″ to over 1.0″ that can be cut to size to customer specified thickness, length and surface finish. We also offer precision machining, threaded rod, and gun-drilled molybdenum rod. As with all of our materials, our rod begins as metal powder, pressed into ingots, sintered, and then swaged and drawn down. Our advanced drawing / swaging process enables us to tailor the product to meet specific customer material and performance requirements to ensure optimal performance in your application.
Molybdenum Rod Specifications:
Standard Diameter Tolerances (inches)
Diameter
Black/Clean
Ground
.020 to .025
± .001
± .001
.025 to .070
± .0015
± .001
.070 to .200
± .002
± .001
.200 to .250
± .007
± .001
.250 to .437
± .007
± .0015
.437 to .750
± .010
± .003
.750 to 1.000
± .015
± .005
1.000 to 1.250
± .015
± .005
1.250 to 1.750
± .025
± .005
Tighter tolerances can be obtained upon request.
Standard Length Tolerances (Inches)
Diameter
.5″ to 12″
12″ to 24″
> 24″
.020 to .100
± .010
± .015
± .0625
.100 – .500
± .015
± .015
± .0625
.500 to 1.000
± .015
± .030
± .0625
1.000 to 1.500
± .030
± .0625
± .0625
Tighter tolerances can be obtained upon request.
Molybdenum Threaded Rod and Hex Nuts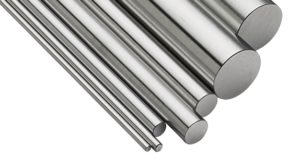 Elmet also manufactures and stocks high-performance molybdenum threaded rod and hex nuts in common sizes ranging from #4 to 3/4″ in English sizes, and M5 to M12 in Metric. Many of these products are available on our ecommerce site: www.elmetexpress.com or please call us at 1.800.343.8008 to discuss your application with our customer service team.
Gun Drilled molybdenum Rod
With our newly added capabilities, Elmet now offers a complete line of gun drilled rod products featuring partial and through holes, short to long lengths, and a wide range of outer and inner diameters.
Molybdenum Rod Product Details:
Machined from 99.95% pure molybdenum pressed, sintered and swaged material
Made in the USA – Elmet is the only fully integrated US source of pure molybdenum rod material and products
Proud to be manufacturing refractory metals in Lewiston, Maine since 1937
Designed to exceed ASTM B387 specifications
ISO 9001 and AS9100 certified manufacturing process
Molybdenum:
High purity molybdenum possesses unique properties that are suitable for use in a number of applications and industries. For example, its high melting point, 2620 °C, drives its performance in high-temperature environments. Elmet starts with the highest quality Mo powder to ensure our final product always meets our customer's application needs. In addition, we will modify the manufacturing processes to meet even the most exacting application requirements that our customers have.
Symbol: Mo
Category: Transition Metal, Group VI
Atomic Number: 42
Density: 10.28 g / cm3
Discovered: 1778
High melting temperature, 2620 °C
Low vapor pressure at high temperature
Low coefficient of thermal expansion (CTE)
Good thermal and electrical conductivity
High density
Good corrosion and creep resistance
Load bearing capabilities at temperatures up to 2000 °C,
Excellent thermal and electrical conductivity
Shielding from high energy particles
Fully Integrated Tungsten and Molybdenum Rod Manufacturing:
When tungsten and molybdenum material characteristics and properties must be critically controlled for superior end product performance, companies rely on Elmet Technologies' unmatched expertise in the field of powder metallurgy. Our advanced powder processing produces pure tungsten and molybdenum metal powders as well as specific metal alloys. By selectively influencing aspects of the metallurgical process, we can change characteristics like porosity, strength, and temperature resistance to meet our customers' specific needs. At Elmet, our process is fully integrated and starts with the raw material, metal oxide, which is then purified to tungsten and molybdenum metal powder through a chemical reduction process. The powder is formed into semi-finished products through a series of advanced mixing, pressing, deformation and heating technologies. Finished products are then carefully manufactured to customer specifications utilizing our state-of-the-art machining and fabrication techniques. By controlling each step in the production process from metal powder to finished product we ensure that our products consistently deliver the performance and quality required by our customers.
Precision Machining, Fabrication & Assembly:
Elmet also offers precision tungsten and molybdenum machining and fabrication capabilities. We've honed our processes during our decades of successfully working with molybdenum and tungsten. At our United States facilities, Elmet operates more than 70 machines that are dedicated to supporting your precision machining and fabrication requirements for molybdenum and tungsten.