ASTM B777 Class 4 Tungsten Heavy Alloy
Elmet Technologies ASTM B777 Class 4 Tungsten Heavy Alloy (WHA) specification overview. This guide helps in understanding the properties, benefits, manufacturing, and typical sizes of WHA Class 4 that Elmet manufactures. This resource gives our clients an in-depth analysis regarding the specifications of ASTM B777 Class 4 WHA.
Overview
What is ASTM B777 Class 4 tungsten heavy alloy? Pure Tungsten is also known as Wolfram. Tungsten (W) is an element that was first discovered in 1781. It is represented on the periodic table with symbol W, as well as atomic number 74. Pure tungsten (W) is not the same thing as what is commonly referred to as tungsten alloys, tungsten heavy alloys or WHA. According to ASTM B777, there are four (4) classes of tungsten heavy alloys, namely class 1, class 2, class 3, and class 4. In this section, we'll discuss ASTM B777 Class 4.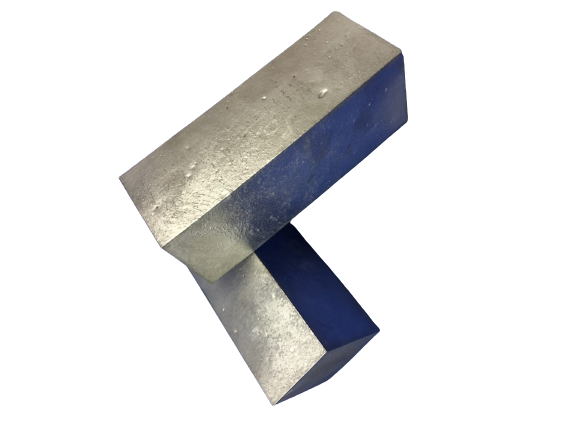 ASTM B777 Class 4 Properties
Class 4 WHA material contains nominally, 97 weight percent (wt.%) Tungsten (W). Elmet's Class 4 material is designated as ET97. A non magnetic (NM) alternative is not available in Class 4. ASTM B777 WHA, Class 4 provides a very high density material. It is easier to produce and machine relative to pure tungsten. Typically, Class 4 WHA is used for the most demanding X-Ray and radiation shielding applications.
Class 4 material starts out as a blended metal powder (Pure W mixed with a binder of Ni and Iron). Then, it is pressed and sintered. The next step, in some cases, is to machine it into high-quality tungsten heavy alloy (WHA) blocks, rods, or other shaped parts. Notably, Class 4 has lower density compared to Pure Tungsten. However, it offers increased density over Class 1, 2 and 3. It also provides over twice the density of steels and most nickel-based super alloys.
Sizes of WHA Class 4 Material
Elmet has a large and growing inventory of standard mold sizes. This further helps with shorter lead-times. Additionally, special tooling is available for matching the exact size needed for a project. All sizes can be sold "rough as sintered" or machined to provide tighter tolerances. Elmet also precision machines WHA parts for a number of applications. This includes ballast weights, radiation shields, boring bars, ordnance components, among other WHA components requiring a domestic source for tungsten alloys.
Benefits of WHA Material
Class 4 WHA (ET95), is only used when the properties of Class 1, 2, and 3, for some reason, do not offer sufficient density or radiation or X-Ray shielding capability. While still machinable, Class 4 (ET97) is more difficult to machine than Class 1, 2 or 3.
The unique advantages and material benefits of tungsten heavy alloy (WHA) include:
Environmental and density advantages over lead for radiation shielding
Unique capabilities for dampening vibration and in balance weight applications
Ideal for applications that require very high density
Often leveraged in defense applications for its unique combination of YS, elongation and density
Excellent ability to absorb gamma rays and x-rays
ASTM B777 Class 4: Specifications & Technical Data
All of Elmet's Class 4 ET97 material is made in the USA at our fully integrated facility in Lewiston, Maine. The below table highlights the properties of Class 4 tungsten alloy including mechanical properties. The ASTM B777, AMS 7725, and legacy AMS and MIL-T-21014 Class 4 nominal compositions and properties are as follows:
| | |
| --- | --- |
| GRADE | ET97 |
| ASTM B-777 | Class 4 |
| AMS 7725E | Class 4 Type 2 |
| MIL-T-21014D | Class 4 |
| W content, wt.% | 97 |
| Ni content, wt.% | 2.1 |
| Fe content, wt.% | 0.9 |
| Density, g/cm3 | 18.5 |
| UTS, ksi | ≥ 100 |
| UTS, MPa | ≥ 689 |
| YS, ksi | ≥ 75 |
| YS, MPa | ≥ 648 |
| Elongation, % | ≥ 2 |
| Hardness, HRC | ≤ 35 |
| Mag. perm. | > 1.05 |
Elmet Technologies: Your Edge in Performance Metals
Elmet Technologies is a leading tungsten heavy alloy (WHA) manufacturer, with over 90 years of experience working with tungsten. As the only US owned-and-operated, fully-integrated facility, Elmet produces its own pure tungsten powder at its facility in Lewiston, Maine, USA. Elmet has a growing product line and blending capabilities.
Elmet presses and sinters high-quality WHA blocks, rods, and shaped parts. Sintered WHA blanks can be further rolled or swaged by Elmet to produce plates, sheets, and rods with ultimate tensile strengths exceeding 180 ksi (1240 MPa) and elongations exceeding 5%. Elmet also precision machines WHA parts for use as ballast weights, radiation shields, boring bars, ordnance components, and other components that require high density and good ductility.
To discuss your ASTM B777 Class 4 Tungsten Heavy Alloy (WHA) requirements, please contact us at [email protected]